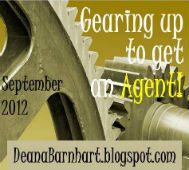 Yesterday was the last day of an amazing Turkish vacation and I was busy flying home so I missed the first GUTGAA blog post - yikes! So this is a day late, but better late than never, right? Here goes :)
1) Where do you write?
Everywhere - at home, that is! I have a great writing nook with a desk and a comfy chair, but just as often, I'll set up shop on my couch, in bed, on the balcony, or at the kitchen table.
2) Quick. Go to your writing space, sit down and look to your left. What is the first thing you see?
My writing desk is nestled into a corner and closed in on the left by a bookcase full of some of my favorite paperbacks :) Mostly Robert Jordan, Jacqueline Carey, and Terry Goodkind fill most of the shelves.
3) Favorite time to write?
Depends on what I'm writing. If I've already outlined a scene and know exactly what I want to do with it, then late afternoon/evening is my best time to get those words out. If I'm struggling with a scene though and am not yet sure how it's going to turn out, I need my mind to be absolutely fresh so I'll write in the morning (after a few cups of tea to make sure I'm really awake, haha).
4) Drink of choice while writing?
Tea! Earl Grey or Chai Lattes for me. Although, I'll sometimes drink a mocha for afternoon writing sessions.
5) When writing , do you listen to music or do you need complete silence?
Almost always, complete silence. Sometimes though, I'll listen to specific music before I start writing to get me into the right mood for the scene. And sometimes, I'll listen to movie scores (only on super low volume though) while writing particular scenes - I find it helps with the pacing.
6) What was your inspiration for your latest manuscript and where did you find it?
There's a street nearby called "Valkyrie Street" and it got me thinking, wondering about how it got the name. My current WiP has nothing to do with the story behind how a street got its name, but the MC is a valkyrie!
7) What's your most valuable writing tip?
Janice Hardy's Blog - She has compiled the most complete set of tips/explanations/examples on writing a novel and I am forever grateful to her for doing it! There's always something new to learn or be reminded of and her timing seems to somehow perfectly match up with my own writing journey :)
That's it! But this is a blog hop, so don't forget to visit all the other amazing blogs participating and meet some new writer buddies :) Here's the List of Participants